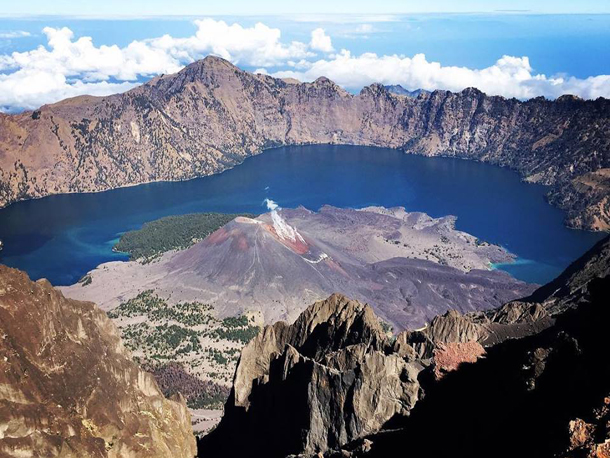 Mount Rinjani Summit 3 Days 2 Nights is advance trekking 3 days to explore Mount Rinjani Volcano and National Park. The trek start from Senaru village and finish in Sembalun covering forestry trail, Mt. Rinjani crater rim, Segara Anak Lake, Rinjani Summit and Sembalun savanna views.
This tour available for backpackers sharing group, private solo travellers, private couple and private group, required good level of fitness, aged 11 - 50 years old. Not recommended for person who has mountain sickness
Itinerary Mount Rinjani Trekking Tour 3 Days:
Day 1: Senggigi Beach - Senaru Village (601M) - Senaru Crater Rim (2641M)
05.00 Depart from your hotel to the trekking point in Senaru village.
07.00 Arrive in Senaru Village, meet with your guide and briefing. After briefing proceed with registration at Rinjani Trek Center office ( RTC ).
07.30 Start the trek, at the beginning of 30 minutes you will walk between local village farm area, you will see cacao plantation, coffee, vanilla, banana and cashew nut. After 30 minutes walk between farm area you will enter Senaru forest gate and start walk in sheltered thick tropical forest with rich of flora, bird life and a variety of butterflies. You might see orchid and, if lucky, the rare black ebony leaf monkey, known locally as lutung.
About one hour walk from Senaru forest gate you will reach POS 1, take some rest and top up your water. From POS 1 continue to POS 2, the trails more step.
12.00 Reach POS 2, stop here for Lunch.Your guide and porter will prepare and cook the lunch for you.
13.00 Continue walk to POS 3 Mondokan Lokak, still walk in the middle of the forest, more varieties of big trees you will see along the trek includes rattan tree, Pandanus and Banyan.
15.00 Arrive at POS 3 Mondokan Lokak, take some rest and top up your water. Pos 3 Mondokan Lokak is the ending of the forest, from here the trek trail dominated by savanna view Pinus trees until the crater rim of Senaru.
17.00 Reach Senaru Crater Rim, enjoy the view of Segara Anak Lake, Baby Volcano, Summit of Mt. Rinjani and spectacular sunset from the campsite.
Your guide and porters will set up the tent for you for overnight and cook the dinner as well.
Day 2: Senaru Crater Rim (2641M) - Segara Anak Lake (2000M) - Sembalun Crater Rim (2639M)
06.00 Enjoy sunrise from the campsite.
While you enjoy the sunrise and views surrounding the crater rim, your guide porter prepare the breakfast for you.
08.30 Leave the campsite of Senaru Crater rim walk down to Segara Anak Lake (2000M) through the crater, steep and challenging path ways.
You will see beautiful views along the way down to the lake.
11.30 Arrive at Segara Anak Lake (2000M), your guide will take you to explore the lake and visit hot spring, while your porters prepare and cook the lunch for you.
After lunch continue to Sembalun Crater Rim (2639M), this an ascending route with some path also quite steep..
17.00 Reach Sembalun crater rim, your guide will set up the tent for overnight and prepare the dinner.
Dinner at the camp
Day 3: Sembalun Crater Rim (2639m) - Mount Rinjani Summit (3726m) - Sembalun - Senggigi
02:30 Depart from the campsite to the summit after some light breakfast with coffee and cookies.
Trek trails to the summit of Mount Rinjani (3,726 m) is harder and more step. Lots of sandy path along the way to the summit and the temperature also cold between 0 -5 degrees, specially when reach the summit.
06.00 Reach the summit of Mount Rinjani (3726M), enjoy proud feelings satisfaction of achievement and the amazing sunrise views across the Wallace Line to Bali, Mt. Agung and Sumbawa.
07.00 Leave the summit and descend back to the campsite.
09.00 Arrive at the campsite, enjoy your breakfast and take some rest
10.00 Depart from the campsite walk down Sembalun Village through same route when way up. Lunch serve at Pos 3 Padabalong.
16.00 Finish the trek at Sembalun Lawang Village, and continue with car drive back to your hotel
End of the tour
NOTE:
If you have connecting flight at same day after the trek or wish to go directly to Gili Isalnds, we can customize the trek route to be started opposite (to be started from Sembalun Village ending in Senaru Village) so you can finish the trek earlier and spend only 2 hours drive to the port
Package Price:
Private Trip : USD270 /person (min 2 persons)
Sharing Trip : USD185/person
Package includes:
Return transfers Senggigi – Senaru Village
Entrance ticket Rinjani National Park
Trekking Guide
Porters to carry logistic and trek equipments
Full board meals; breakfast, lunch, dinner, coffee or tea, hot chocolate, snacks, fresh fruits
Camping equipment; tent, mattress, sleeping bags, cooking gears, first aid kit.
Drinking water
Inbound Travel Insurance
What to bring:
Torch or Flashlight
Toiletries
Sun block/lotion, hat/cap, sun glasses
Spray for muscle/balm
Insect repellent
Camera, Handycam (Manual or Digital)
Extra rolls film for manual camera or fully charged extra battery for digital
Small towel
2/3 pcs of T-Shirts
Long trek pants/wind proof
Windproof Jacket
2 pcs of shorts
Trek stick/lekki