Jln. Raya Senggigi Km 8, Senggigi - Lombok - Indonesia
  6 staff
+62 370 692014
+62 370 692014
+62 81805 728107
  waynenata@gmail.com
https://www.facebook.com/WayneNataRoney
  www.lombok-eccotour.com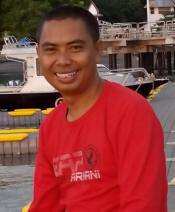 Wayan Nate - Local Guide

About Lombok Eco Tour
Lombok Eco Tour (www.lombok-eccotour.com) is the most reliable site for tourism information in Lombok, Nusa Tenggara Barat Province - INDONESIA. It was published on 2009 in order to support our government program to promote and develops tourism industry in Nusa Tenggara Barat "visit Lombok and Sumbawa program".
With background as Lombok tour guide since 2004, I, Wayan Nate - the founder of Lombok Eco Tour motivated to share my experiences on a tourism information website (www.lombok-eccotour.com) with right and up to date information about Lombok and Sumbawa Island and also offers competitive tour products so could help the development of the tourism industry in Lombok and Sumbawa - Nusa Tenggara Barat Province.
We are here with new concept of service and hospitality to meet expectation of fabulous holidays. It is specializing in conducting the discoveries throughout the region of east Indonesia especially The Lesser Sunda Islands, comprises Lombok, Sumbawa, Komodo, Rinca, Flores Sumba and other islands. Lombok Eco Tour backed up by young and creative staff with years of in-field experiences which truly an assured guarantee to patronize the quality of service to meet satisfaction.
We are dream to be a leading travel company who can create a unique products and offer personal services. We definitely believe that products and personal services are 2 things which is in-separable.
Our commitments are always to present up to date information about Lombok and it's surrounding islands, to offer best tours product with personal and excellent service to give meaning of your travels, aiming to create memories and satisfaction.
The tour program and itineraries are carefully designed the result of a long study, research and experience distinguished in serving and alternative in objects visited. Our prime concern is to show the customers the real things and making what they have ever dreamed of comes true. All of the tour program also created base on Eco Tourism, means local community in every area involved to support improvement of local economic.
Our team has creativity reputation and experience to design incentive and theme events unique and unforgettable. The professional management supported by fully computerized system will ensure all requirements to be fixed appropriately in time as well as professional staffs are available in all the way to assist any assistance may be needed… All at affordable price.
Finally, we are absolutely convinced with our capability, integrity and authority towards providing better service in all the way expectation that you come with and you will leave satisfied. We ensure you with our commitment.
Lombok Eco Tour Office Map Location