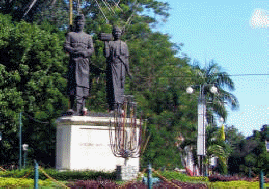 Kota Mataram (Mataram city) is the administrative capital of Province Nusa Tenggara Barat (NTB). Public buildings, banks, post office, general hospitals and shopping malls are found here. A part of West NKota Mataramusa Tenggara (NTB) province, Mataram is the capital and main city of Lombok. It includes the port town of Ampenan, the towns of Mataram, Sweta and Cakranegara.
As a center of government administration, Mataram has many large, impressive public buildings and substantial houses include Governor office, Mataram university and Rumah Sakit Umum Mataram (public hospital). The city also has transportation and shopping facilities. The main square is used for art exhibitions, theater, dance and wayang kulit (puppet theater) performances. In other parts of Mataram, there are a variety of old-style markets and neighborhoods featuring traditional craftwork like basket ware and gold- and silver-threaded sarongs, or wraparound garments.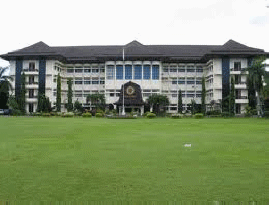 The port of Ampenan was once Lombok's main port, but it now relies mostly on fishing vessels. Cakranegara has significant Balinese andGovernor Office in Lombok Chinese populations, the Chinese having been brought by the Dutch to provide cheap labor.
The town is easy reach from new international airport (Bandara Udara Lombok) about 35 minutes drive by taxi or Airport shuttle bus and Lembar sea port just 20 minutes drive with public bus transportation.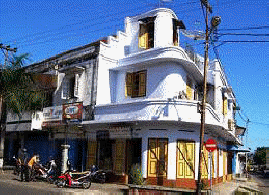 Ampenan
Once was the main port of Lombok. Old buildings are found here and kept by the local community, the town inhabitant are mix population of Arabs, Malay, and Chinese. Lots of local restaurants which is provide Chinese food and Sasak food.
Cakranegara
Cakranegara is the main commercial center of Lombok, has a thriving Chinese and Balinese community. Its also home to many Chinese and Balinese who make up over 50 percent of the citAmpenan Cityy population. The street of the city make an interesting tour with gold shops, sporting goods, clothing stores and many other local products
Public Transportation
Mandalika Bus station is the main bus terminal for the entire island. It's also the eastern terminus for the local yellow bemo's " the public transport" that shuttle back and forth to Kebun Rowek Ampenan. The major night bus are operated from Mandalika bus terminal, for the travelers who want traveling to Sumbawa or Java island this bus terminal are the base.
Lombok Taxi you can find around the road or available on call phone (0370) 627000, Lendang express Taxi Phone (0370) 644444 available 24 hours a day.
Mataram HotelsOgoh - Ogoh Festival
There are plenty of good quality hotels, hostel to stay in Mataram form medium to low budget. For either business or leisure, Mataram is a clean and friendly city to explorer. Food stalls, shopping mall are the main attraction of this town. Most places to stay are recently located in Cakranegara and few old places in Ampenan. The Mataram city about 35 minutes drive from new international airport in Lombok (Bandara Udara International Lombok). It's easy to get around and metered taxis are available upon request.
Place of interest in Mataram City, Lombok :
Taman Mayura
Taman Mayura was built in 1744 by Lombok's King Anak Agung Ngurah Karang Asem. The center piece of the garden is aMeru Temple delightful pool, in the middle of which is a Bale Kambang (floating house), its used for judicial lawsuit or important meetings. The temple and park is influence either by Moslem and Hindu culture, it's shown from the statues surroundings it building.
Pura Meru (Meru Temple)
Pura Meru located is in Cakranegara, was built in 1720 under the instruction of Anak Agung Gede Karang Asem. This temple situated on opposite of Mayura temple and short walking distance from Cakranegara traditional market.
Museum Nusa Tenggara Barat
The Museum of Nusa Tenggara Barat shaped to resemble a Sasak dwelling, located on Jalan Panji Tilar, ampenan. The historical artifacts of the Museum collection included a 1239 manuscript which is the ancient history about the island and wrote in native language which is not longer used as the next was wrote on dried palm leaves, bark and bamboo.
Taman National Narmada (The Royal Park)Narmada Park - Lombok
Taman National Narmada is situated 15 minutes drive to the east of Cakranegara. The Narmada Royal Park was built in 1805 as a replica of Gunung Rinjani and Segara Anak lake. The Royal Park was built on ruled of Anak Agung Ngurah Karang Asem. When the king became too old to make a pilgrimage to Segara Anak he built the Narmada royal garden and temple where he could perform his annual rituals.
Lingsar Temple
At Lombok's historic Lingsar Temple, both Hindu's and Muslims gather to give thanks to God for regional prosperity by staging the lively and combative ritual of Perang Topat (rice cake war).
The Perang Topat series of ceremonies takes place on full moon of the six month of the Sasih on the Balinese Hindu calendar.
Lingsar Temple is the most unique temple at Lombok island, located nine kilometers from Mataram city, Lombok Barat. The unique complex includes a sacred Hindu shrine and central temple which includes buildings (Kemalik) that are sacred to the indigenous Sasak people of Lombok who practice Islam. The Hindu/Muslim complex was built in 1759 by King Anak Agung Ngurah of the Balinese Kingdom of Karang Asem