Gunung Rinjani (Mount Rinjani) is second highest volcano in Indonesia, located on Lombok island, part of Nusa Tenggara Barat Province. Its is an active volcano, rises to 3,726 meters (12,224 ft), becomes one of the over 40 National Parks throughout Indonesia since 1997 with name Taman National Gunung Rinjani (TNGR).
Mount Rinjani caldera formed oval-shaped 6 km by 8.5 km, filled partially by the crater lake known as Danau Segara Anak. The lake altitude on 2000 meters above sea level with some point estimated around 200 meters deep, the caldera also contains hot springs. In the lake can be found several species of fish and the endemic duck called Belibis.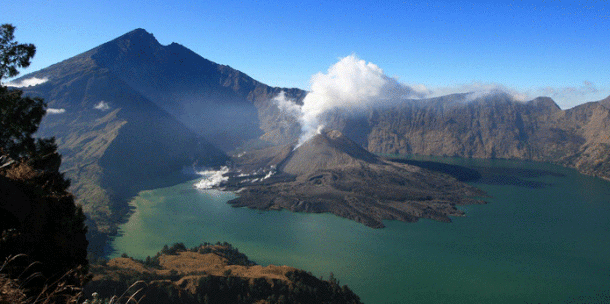 The eruptive history of Rinjani prior to 1847 is not available as the island of Lombok is in a location that remained very remote to the record keeping of the era.
First historical eruption occurred in September 1847 have been restricted to Barujari cone and the Rombongan dome (in 1944) and consist of moderate explosive activity and occasional lava flows that have entered
Segara Anak lake. The most significant eruptions occurred during a spate of activity from 1994 to 1995 which was resulted in the further development of Gunung Barujari. (Mt.Baru 2363).
The latest eruption occurred since April 2009 until now (July 2010), the park was closed due to high activity of the volcanic and subsequently reopened when the activity decreased however its still not allowed to come close near Gunung Barujari (Mt. Baru) because the volcano still erupting ashes regularly and strong smell of sulfur.
The trekkers now able to visit Senaru Crater Rim, Segara Anak Lake, Hot spring, Mount Rinjani Summit and Sembalun crater Rim.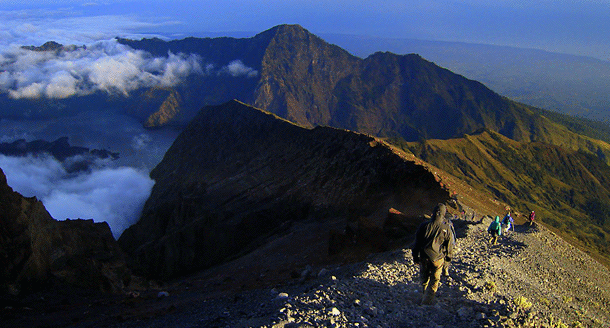 Communities and Lifestyles
According to the percentage of population on Lombok Island are mostly sasak ethnics, most slopes surround Mt. Rinjani National Park populated by the indigenous Sasak population and only some small area found group of balinese stay side by side.
For Sasak and Balinese people of Lombok revered Mt. Rinjani as a secret place and abode of deities, Segara Anak crater lake is the destination of thousand of pilgrims. They do secret annual ceremony on beginning
of rain season, place offerings in the water and wish to a good intensity of the rains during rain season for farming, bathe away disease in the hot springs.
The highlands are forest clad and mostly undeveloped. The lowlands are highly cultivated by the local people who lives around. The major crops grown in the fertile soils of the island are rice, soybeans, coffee, tobacco, cotton, cinnamon, cacao, cloves, cassava, corn, coconuts, copra, bananas and vanilla.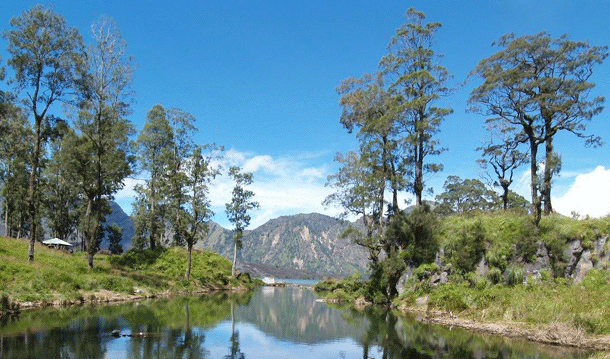 Trekking to Mt. Rinjani National Park (TNGR)
The Rinjani trek is a challenging mountain walk and you must be prepared with good equipment, warm and windproof clothing. Rinjani can attract severe storms, lightening and strong winds. When the weather is settled, the sun is intense and the nights frosty.
Parts of the trail are steep and slippery. Beware of bad weather and risks of exposure to the wet and cold (hypothermia). If caught in an electrical storm, take shelter and avoid prominent ridges. Beware of stinging insects and plants. Leeches can be a nuisance in the wet season.
People who has mountain sickness and height phobia not recommended to trek activities on Mount Rinjani, its a risk because evacuation access to trek is very limit by car or an helicopter. For first emergency help or evacuation in case of any accident is done by human power until to the road head where the car or other transportation could reach it. All trekkers should well prepare in advance with their physical fitness and health to gain walk in long distance of Mount Rintani trek trails before commencing the trip.
Strictly rule of trekking to Mt. Rinjani, Lombok is not allowed trekking without trekking guide assistance. Trekking to Taman National Gunung Rinjani only through legal gate and buy entrance ticket Rp. 150.000 per person each entrance the national park of Gunung Rinjani. Book your trip to Mt. Rinjani only through licensed trek organizer or travel agency.
Volcanic Hazards:
Although Mt.Rinjani has not erupted in recorded history, Mt.Baru (2,351m) in the crater lake is an active volcano. It was erupted dramatically in 1994. After 10 years periodically actives on 2004 and 2009 resulting new crater on body side of Gunung Baru Jari. Check the notice boards for recent hazards, and take advice from park staff and guides.
Spring Water:
Fresh water springs are a feature of the trek and determine campsites. Your guide knows where these are. During the drier months (July - September) some springs completely disappear. Park staff and guides constantly monitor these water sources to determine their abundance.
Our Philosophy
We deal largely in ecotourism & adventure travel, but for us adventures are not just the rugged kind. An adventure can take many forms and need involve little that is overly strenuous - to us every trip is a voyage of discovery and hence an adventure. The guiding philosophy behind each is that the trip be environmentally friendly and sustainable. This means impacting as little as possible on the peoples and places we visit, always respecting the distinctiveness and special qualities of each.
The way we do it must be environmentally-friendly as well as economically and physically efficient. This means we trek, cook, camp and shows you more of the things with care and attentions. We use mechanized transport when we have to cover long distances in limited time; even so, we use local modes of transportation as far as possible to maximize exposure to the local lifestyles and to get close to the people. As a consequence, during the tours there is a lot of opportunity to learn about and from the indigenous peoples.
Telephone Communication:
Cell phone (GSM) covers most area of Rinjani National Park. Most guide carry their own mobile phone. Not all cellular operators can be used. Pro XL, Mentari and Simpati are recommended.
Booking Mount Rinjani Trekking:
Book your trip to Mt. Rinjani through licensed Rinjani trek organizer or travel agency, its more safe and you will get more maximal service with the money that you spend for it as they expecting any recommendation and good feedback from you. If you buy the trip from street vendor which is offering you cheap price they will give you minimal service too and there is no where you can address your complaining. Most of them are unlicensed too.
"You will get what you pay"
Booking with us at www.lombok-eccotour.com is licensed travel agent include trek organizer.
Lombok Eco Tour offers: