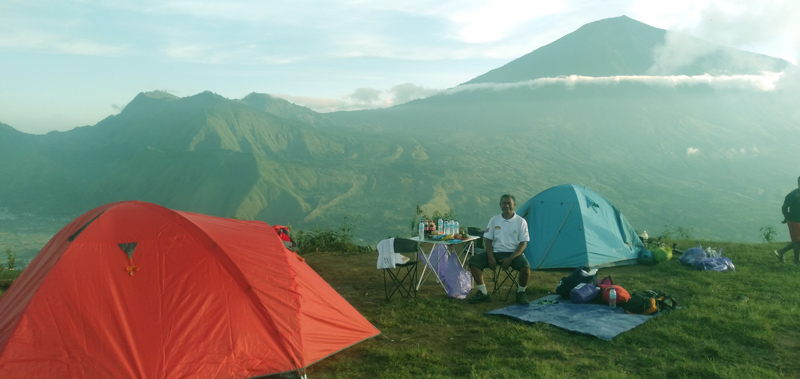 Pergasingan Hill Camping Trip is best alternative non trekkers who would like to enjoy the nature, mountain view and outdoors activity with easy trek trails. This tour is 2 days 1 night, camping on the top of Pergasingan hill and at the end of the trip combine with tour to the biggest waterfalls, Sendang Gile and Tiu Kelep Waterfall
Pergasingan Hill (Bukit Pergasingan) is one of the best destination for soft hiking or camping activity during your holiday in Lombok, Indonesia. Pergasingan hill is captivating enough. The stunning natural scenery, rice-field, the foggy Sembalun village is enhanced by the view of Mount Rinjani. Pergasingan hill is located on a hill north of the Sembalun Village with 1,700 meter above sea level, usually some visitor use this place for training before trek Rinjani Mountain, but sometime this hill has been in use for an extreme sport such as paragliding, mountain bike etc. You can enjoy a beautiful scenery around Pergasingan Hill, also known as paradise for photographers.
Pergasingan hill could be best alternative for hiking or camping trip in Lombok if the ascent of Mount Rinjani climbing lane is being closed during rain season on January until end of March.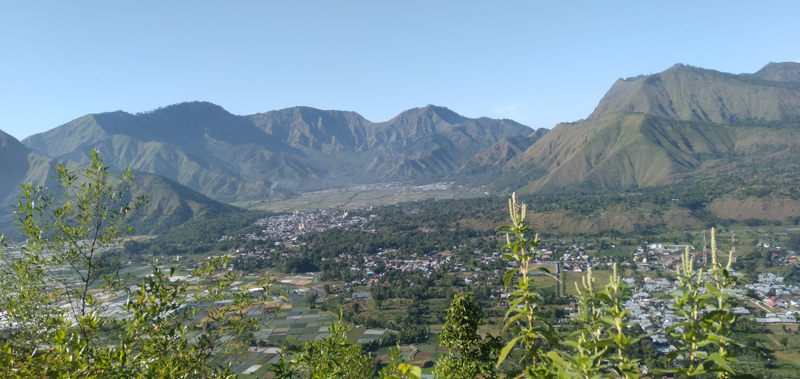 The hill is arguably one of the coolest sights in Lombok. Because of the sights that can be seen all the way up to the hilltop and very diverse. For example coolest is the scenery of rice fields forming a checkerboard pattern, Gunung Rinjani solid, Sembalun quiet residential village, until the hills were so beautiful landscape.
On the hill with an altitude of 1700 meters above sea level, Mount Rinjani sturdy looks are nearby. So, for that can not be climbed Mount Rinjani, Pergasingan Hill climbing can be a panacea before embracing Rinjani actual peak. Pergasingan hill is located not far from Mount Rinnjani, precisely located in the village of Sembalun, East Lombok, about 2-3 hours drive from Senggigi or Mataram.
The climb is not as difficult as climbing on the mountain, though you should still be careful when riding. Towards the top of the hill, you will be facilitated by the presence of a round of hundreds of pieces, and then climbing over rocky dirt track. Be careful, because the path with a slope ranging from 60-70 degrees will greet you with a full of challenges.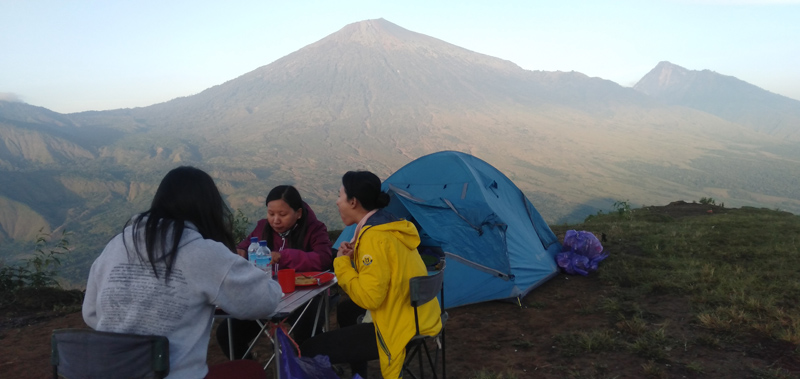 What to see: 
The view of Mount Rinjani summit
Sembalun Rice field
Sembalun Valley view
Edelweis flower
Sendang Gile Waterfall
Tiu Kelep Waterfall
Camping on the top of Pergasingan hill
Who can do this trip:
: All trekkers and non trekker, couple, group and family with kid
Pick up arrangements:
Free of charge for pick up in the area of Senggigi, Mataram city, Bangsal harbour, Pemenang, Tanjung and Senaru
Additional charge USD15/person pick up in the area of Kuta Beach, Gili island, Sekotong Beach, Lembar, Selong Belanak, Tetebatu
Drop off point:
Free of charge for dropping off after the trek in the area of Senggigi, Mataram city, Bangsal harbour, Pemenang, Tanjung and Senaru
dditional charge USD15/person for dropping off after the trek in the area of Kuta Beach, Gili island, Sekotong Beach, Lembar, Selong Belanak, Tetebatu
Itinerary:
Day 01: Senggigi/Mataram – Sembalun Lawang Village (1156m) – Pergasingan Hill (1700M)
09.00 Depart from Senggigi or Mataram to starting point at Desa Sembalun Lawang about 3 hours drive
12.00 Arrive at Desa Sembalun Lawang and proceed with lunch at one of the Restaurant at the Village
13.00 After lunch start hiking on Pergasingan hill
16.00 Arrive at the campsite at Pergasingan hill
Enjoy the beautiful scnerey and sunsetview from the top of Pergasingan hill
18.30 Dinner at the campsite
After dinner rest at the campsite, best stars view and milky way in the evening
Day 02: Pergasingan Hill – Sembalun Lawang – Senaru Village (Waterfall) – Senggigi or Mataram
Wake up early morning to see the sunrise from the top of Pergasingan Hill
07.30 Breakfast
09.00 Leave pergasingan hill back down to Desa Sembalun Lawang
11.00 Finish trek and continue the trip, drive to Senaru Village.
12.00 Arrive at Senaru Village and continue with Lunch at of the restaurant here
13.00 After lunch start walk to the waterfall, first visit Sendang Gile Waterfall about 25 minutes from starting gate. Here you will beautiful natural and big waterfall. From first waterfall/ Sendang Gile Waterfall continue walk to the second waterfall, the name is Tiu Kelep. Tiu Kelep waterfall is bigger and has natural pool for swimming.
16.00 Finish at the waterfall continue drive back to Senggigi, along the way you will see beautiful scenery of the rice fields and beaches.
18.00 Arrive Senggigi or Mataram. Program end
Package Price
| | |
| --- | --- |
| Number of Person | Price per Person |
| 1 Person | USD 260 |
| 2 Persons | USD 135 |
| 3 Persons | USD 115 |
| 4 Persons – up | USD 95 |
The package includes:
Private transportation with air con car and petrol
English speaking driver
Entrance ticket for Pergasingan hill
Entrance ticket for Sendang Gile and Tiu Kelep Waterfall
Trekking guide
Drinking water
Breakfast, Lunch and Dinner during the trip
Tent, sleeping bag, mattress and toilet tent
How to Book::
Send your inquiry by WhatsApp, email or fill the booking form with details number of the person, name(s) list, pick up point (hotel name)
Your reservation will be guaranteed 100% without deposit. The reservaston minimum 24 hours in advance
Term of Payment:
Full payment on the spot on the day of the trip with cash in USD or local currency
Online payment available via Paypal and should be settled in advanced to the following paypal account : waynenata@gmail.com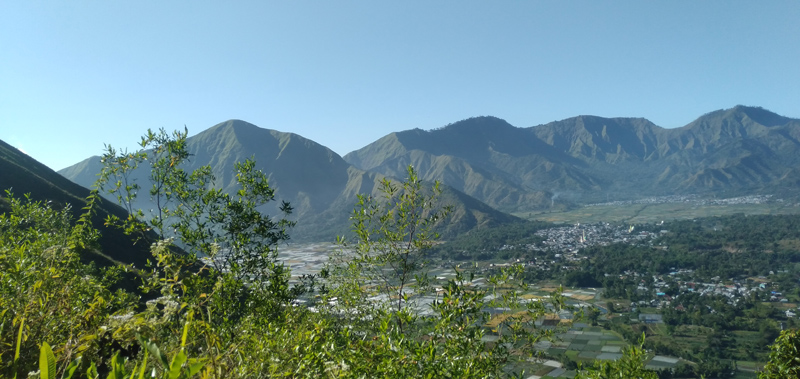 For traveler or trekkers who does not want spend a night camping at Pergasingan hill can jooin One Day Tour Package to Pergasingan Hill. Click here for details itinerary