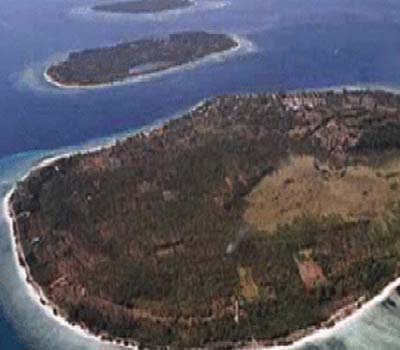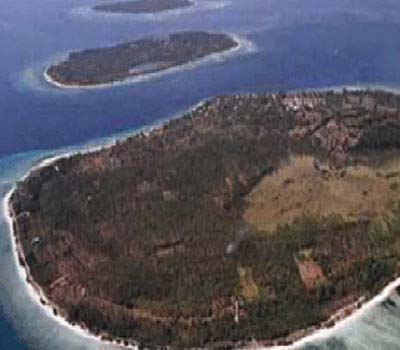 The three islands of Gili Air, Gili Meno and Gili Trawangan is located just off the northwest coast of Lombok. These islands are rapidly becoming one of the most popular destinations for visitors to Bali and Lombok. They are now easily accessible direct from Bali with the new Fast Boat service, or by plane and local boat from Lombok. Gili Trawangan, Gili Meno, Gili Air
All three islands feature superb, white sandy beaches, crystal clear water, spectacular coral reefs, and the best snorkeling and diving to be found anywhere on Bali and Lombok. Visitors from all over the world are attracted to the simple pleasures of sun, snorkeling, diving, beautiful beaches, and socializing. The absence of cars, motorcycles, and hawkers adds greatly to the leisure of staying on the Gilis – although there is now a wide range of accommodation available, the islands have maintained the lazy rustic charms of a tropical paradise. To get around the isle, the only means of transport are Cidomos, horse drawn carriages. Bicycle rentals are available too. Expect higher prices for most things there since all food and goods must be brought over from the mainland.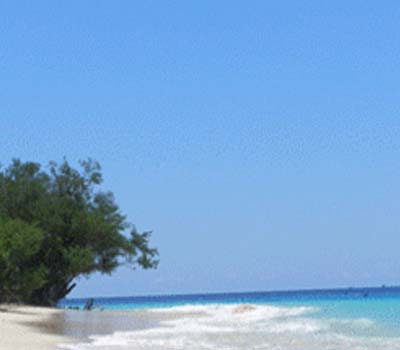 Gili Trawangan
Now appears to head the list as the most popular island - it has long had a reputation as the 'party' island mainly through a concentrated and central foreshore area of restaurants, dive operations and hotels including some luxury boutique choices.
High standards, great instructors, new gear, good boats, saltwater pool for training.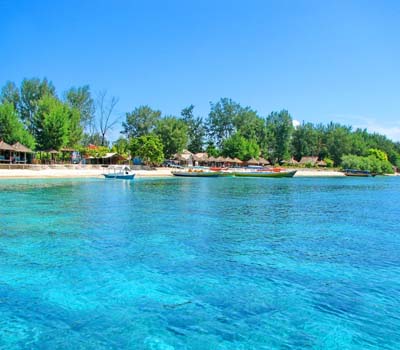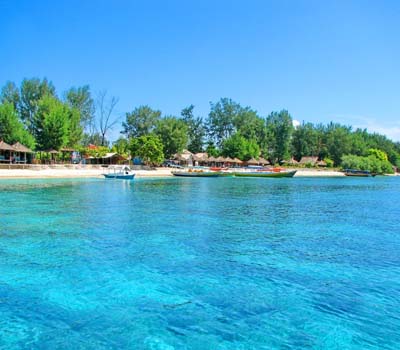 Gili Meno
Still the quietest island is a place to escape to and although it has a smaller list of accommodation options those that it has are tending towards a more up-market clientele. Snorkeling off beaches of pure white sand the coral is superb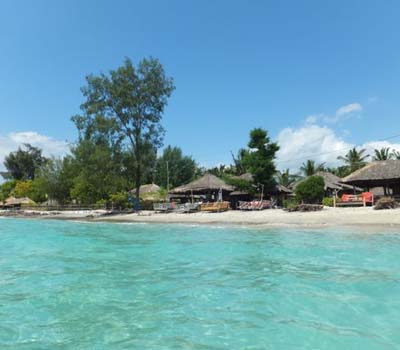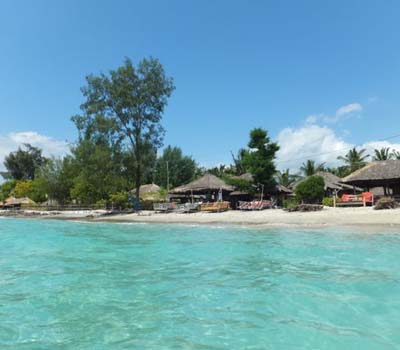 Gili Air
Has the largest local population and while it has more of a lived-in feeling than the other two islands for some that is quite possibly its attraction. On Gili Air it's possible to likewise enjoy the marine possibilities but also one can absorb some of the local culture missing on the other islands.
How to Get there:Gili Trawangan
The main gate to the three island is via Bangsal harbour in Pemenang, Lombok Utara. Its around 45 minutes by taxi or private chartered car from Mataram Airport, Lombok or Mataram City. From Senggigi area around 30 minutes.
Direct fast boat to Gili Trawangan is now available from Bali, its about 2 hours on the sea. This boat also connect to the main land, Lombok landed at Teluk Nare private harbour.
For all visitors highly recommend use arranged transfer service to avoid hussle and bustle at Bangsal (public harbour to gili islands). Local street vendors who try to sells things with pushing and pressure, or those who grab your luggage and ask too much for a porter service could be annoying. Paying a little extra for a comfort and easy settlement for a wonderful holiday break is worth it, especially those who travel with kids.
ISLAND'S HOPPING
Traveling between the islands requires either catching the infrequent shuttle boats or chartering one to take you across. The distances between the islands may seem swimmable, but do not attempt it — the currents can be fierce and several backpackers have died trying.
Electricity and Communication
Electricity supply are now available on all the three Gilis. The electrical voltage in Indonesia is 220 Volt, if you bring any devices which require recharged at lower voltage (110 Volt) bring an electrical voltage converter or ask the hotel where you stay for STAVOLT.
Mobile phone towers ensure you're never out of touch, and there are several Internet cafes on Trawangan for feeding your Internet addiction, although connection speeds tend to be painfully slow. Printing is possible in a few Internet cafés and you can even hook up your laptop in some.
Activities
There are many options for an enjoyable holiday on the islands. You can rent snorkeling equipment, join a diving course, rent a kayak, go fishing, or take a glass bottom boat to see the magnificent coral reefs and fishes. There are no sights as such on the islands themselves, but the snorkeling and diving all around is a major draw.
The locals living on the island are pretty interesting. If you walk behind the main road you will see how the locals live which is much different then the beautiful bungalows the tourists stay in.
MONEY
There is now a Bank Mandiri ATM on Gili Trawangan, in front of the Vila Ombak Hotel, but it's not always working so it's better to bring along enough rupiah to tide you over. The rates offered by moneychangers are noticeably poorer than on the mainland. Credit cards are accepted by some of the more up market places and all dive shops; some will also arrange credit card advances, but with hefty fees on the order of 7-10%. For your own safety, deposit valuable items at the reception where you're staying at. Carry only small cash and necessary items.
Health and Medical
Sanitation has improved on the islands. There are two health centers on Gili Trawangan; 1) located near the school and 2) located in Villa Ombak with better facilities for Tourist.
Gili Meno also now have a health centre which funded by local's businesses. Gili Air also have a health centre located near the main village. The health centre is known locally as "Puskesmas". To stay fit and healthy, always drink from bottled water or boiled water and avoid eating raw foods or salads from small non-reputable restaurants, because the water might not be sterilized.
True to the hippie vibe, magic mushrooms are widely available and openly advertised. Their legality is questionable, as are any physical and psychological effects.
Small but annoying jellyfish are common in the waters around the Gilis during August only, so wearing a full-length wetsuit or surf skin in the water is advisable.
Security
There are no Police Station or Military Post on the islands, but there is a small police station in Bangsal harbor. The Islands funded non-uniformed community policing group, SATGAS, ensures visitor's security and safety. In the rare event of someone breaking the law or disturbing tourists, perpetrators are handed over to Police on Lombok and face banishment from the island for up to five years.
Scuba Diving
There are lots of quality scuba diving operations on all the islands. The coral around the islands is good for snorkeling, which can be reach from the shore. See rays and giant clams. A must see: Turtles Point, Meno Wall, Shark (harmless) Point. Dive Schools available on all the islands with many dive programs to choose, from beginners to advanced technical dives.
Snorkeling
While divers are able to regularly swim with black tip, those who prefer to just drifts in the currents with a snorkel, fins and mask are never left disappointed by the more than 6,000 species of marine life living just off-shore.
Fishing
Fishing is one of the highlight activities on the islands. Deep/bottom fishing remain the best on north west of Gili Trawangan. Carry your own equipment if you're not familiar with the traditional-style of fishing.
Hotel Lists:
Gili Air:
Coconut Cottages. Telp: +62 370 635365
Gili Air Hotel. Telp: +62 370 6621448, +62 370 643580
Sejuk Cottages Gili Air. Telp: +62 370 636461, +62 813 39535387
Villa Bulan Madu. Telp: +62819 07330444
Villa Casa Mio. Telp: +62 370 646160
Villa Karang Hotel. Telp: +62 370 637328
Gili Meno:
Bogenville Cottages. Telp: +62 370 635295
Royal Reef Cottages. Telp: +62 370 642340
Gili Trawangan:
Bale Sampan Bungalows. Telp: +62 812 37024048
Blue Beach Cottages. Telp: +62 370 623538, +62 370 623846
Desa Dunia Beda Beach Resort. Telp: +62 370 6141575
Dream Village. Telp: +62 818 546591, +62 370 6644373
Gili Villas. Telp: +62 370 6138513
Ko-Ko-Mo Resort. Telp: +62 370 634920
Luce d'Alma Resort & Spa. Telp: +62 370 621777
Ombak Sunset Hotel. Telp: +62 370 644333
Ozzy Cottages and Bungalows. Telp: +62 370 6148528
Samba Villas. Telp: +62 812 37000556
Scallywags Resort. Telp: +62 370 645301
Tanah Qita. Telp: +62 370 6194911, +62 813 37501041
The Beach House Resort. Telp: +62 370 642352, +62 370 649365
The Trawangan Resort. Telp: +62 370 6647066, +62 878 64297487
Tir Na Nog. Telp: +62 370 639463, +62 812 3754778
Trawangan Cottages. Telp: +62 370 639282, +62 812 3789837, +62 819 07081113
Villa Ombak Hotel. Telp: +62 370 642336,
Villa Almarik. Telp: +62 370 638520
Villa Unggul. Telp: +62 370 622818, +62 370 644700