Lombok Culture and Attraction
Lombok has a rich and enduring indigenous culture that has withstood the pressures of modernity remarkably well. The strong remnant culture and history of the Sasak people is one of the many unique attractions of the island. The island has of a total population of 3,311,044 (as of 2014 Census), 85% are indigenous Sasak people whose origins are thought to have arisen from Java in the first millennium BC. Other residents include an estimated 10–15% Balinese, with the small remainder being Tionghoa-peranakan, Javanese, Sumbawanese and Arab Indonesians. The Sasak people are culturally and linguistically closely related to the Balinese, but unlike the Hindu Balinese, the majority practice local Muslim faith and traditions.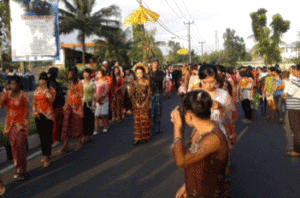 1. NyomgkolanNyogkolan (Wedding party) in Lombok
One very common cultural Lombok event is the street processional following a wedding ceremony. Nyongkolan is a highly-structured procession of ordered tiers including Pemucuk, or the entourage of the family of the bridegroom's parents; Penglingsir and Pawongan, or religious, community and custom leaders; Karas, or bearers of woven bamboo containers with the bride's favorite items; and the bridal entourage flanked by "troops" carrying traditional spears.
The next tier is Pawestri, a female entourage in traditional Lombok dress with Tawak-Tawak artists and the groom flanked by "troops" carrying traditional spears. Then comes Pengerebeng, or a line of males in custom dress followed by the Gendang Beleq artists. More info....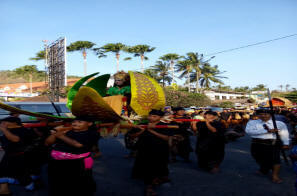 2. Gendang Beleq /Big Drum (Lombok Traditional Musik)
Gendang Beleq is one of the most popular traditional dance from Lombok. It is named so because each dancer plays a big beleq (drum). In the old times, this dance was performed to say good bye to the soldiers who went to battle fields, and also to welcome those soldiers when they returned. Nowadays this dance is performed to welcome important visitors.
It also a lot performed in various occasions such as marriage ceremonies, in a parade called Nyongkolan and also for the entertainment of the important guests in Lombok. The performance of Gendang Beleq also combined with dance called Gandrung. The dance involves two huge drums to accompany it. The word "Beleq" means huge and the other word "Gendang" stands for drum. The drums make loud noises, which in turn signify the essence that makes war. 4 or 6 Oceh/Oncer dancer also plays Copeh Instrument and 1 person plays Petuk. Additional instrument are Suling, Gong, Terumpang, Kenceng and Pencek. Total player in a group of this performance is around forty persons. More info.....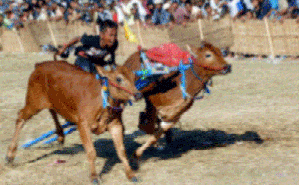 3. Malean Sampi Festival Lombok
Malean sampi (cows race))From many festivals that are celebrated in Lombok, the Male'an Sampi Festival of Lombok is a famous one that is celebrated with much so fun. The Male'an Sampi Festival of Lombok is unique for the reason that unlike other festivals, the Male'an Sampi Festival of Lombok is a power-charged game ritual. People have been known the Male'an Sampi Festival since 18 century in the government of Japan era in Indonesia.
The name of the Male'an Sampi Festival of Lombok "Male'an Sampi" can be split into two Sasak words "Male'an" and Sampi". The word of "Male'an"means 'chase'or as 'to run after' in Sasak, while the "Sampi" means 'cow'. So literally the Male'an Sampi Festival of Lombok is a festival of cow race or, more broadly, 'cattle race' More info...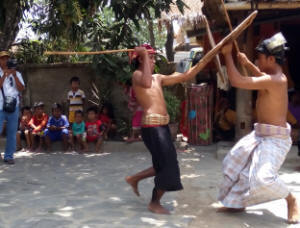 4. Presean (fighting with rattan stick)
Presean is an extreme fight game as the symbol of masculinity of Sasaknes man in Lombok. This game is battle of two men armed with rattan sticks in Sasak language called Penjalin and armored buffalo skin thick and hard called Ende. Two men fighters armed with "Penjalin" attack to each other, defending their opponent's blows with Ende. The fighters in local Lombok language "Sasak" called Pepadu, they are come from selected brave and gentle man who just wearing 'Sarung" and headband without any clothes or other body and face protectors. There is "Pakembar" as the referee of the game.
The Presean cultural is already known from Lombok Sasak society for generations, originally a part traditional ceremony of the happiness of soldiers in Lombok Kingdom when they get won in a war and a ritual ceremony to invoke the rain as drought. As well as its historic associations, the fight also serves to ask God for rain for the imminent planting season with the ancient belief being that the more blood spilled, the more rain would follow. Presean fighting now it's become part of tradition and entertainment culture performance in Lombok more info.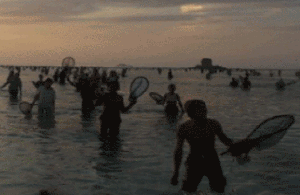 5. Lombok Bau Nyale FestivalLombok Bau Nyale Festival
One of Lombok's most important and popular festivals is Bau Nyale, meaning "to catch the sea worms" in local Sasak language., the Nyale is sea worms in a variety of colours are brown or pale cream to red and green.
Bau Nyale, or the Nyale Festival, takes place every year in the tenth month of the Sasak calendar at a time close to the full moon, it's celebrated in February around 14th and 15th in the south coast beaches of Lombok. The most popular site for celebrating Bau Nyale is at beautiful Seger Beach near Kuta; an area called Putri Nyale (Princess Nyale) by the people of Lombok.
One week before this celebration, the accommodations in Kuta are fully booked with local and overseas visitors who want to see the Festival directly. The festival starts with many attractions such; Presean (people fighting), Adu Pantun a form of traditional poetry, where young people tease and with each other, competing to form verses in a ritual style. More info....