Lombok biking tour is one of the best way to explore Lombok tropical island. Our rides are tailored for beginners to intermediate bikers. Either you are solo traveller, couple, family or group on easy biking level, medium biking level until challenging down hill mountain bike.
Lombok's Tranquil mountain areas peppered with rice paddy fields, small traditional villages and stunning views of Lombok's unspoiled beaches, all surrounded by a culture minus the marks of wide spread International tourism.
Taking one of our Lombok Biking tour is the best way to discover and experience the unique of Lombok Island.  Whether you want to immerse your self into historical and cultural tribe, get a great deal on local markets, experience the wonderful landscape, cycling into country side and wandering at lush green of rice paddy fields.
Lombok Biking Tours also applicable for small group of family, couple from a cruise ship that have limited time to explorer the island. Our Lombok Biking Tour is escorted by experiences and profesional guide and set up to fun and easy going with flexibility time to suit every travellers wish and holiday dreams.
Bellow are the best option of Lombok Biking Tour for short holiday visit on Lombok.
LOMBOK BIKING TOUR OPTIONS:
---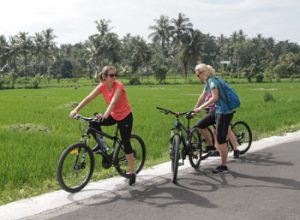 Suranadi Country Side Easy Ride
Suranadi country side Easy Ride, biking through minor road start from Taman Hutan Suranadi (Suranadi forest conservation park) passing Suranadi village and greeny rice fields farm. Stop at  Pura Pembersihan Suranadi for swiming at natural water spring pool for freshn up. Continue ride to Lingsar temple and stop by Pasar Endut morning market, to see local people selling fresh fruit and also visit Karang Bayan where you can see traditional basket hand crat made from rattan and bamboo for kicthen tools, interior and exterior decoration, also for daily use
Tour price from USD50/person for couple, Read More Details
---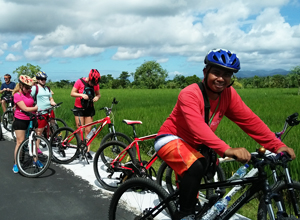 Historical Lingsar Temple country side
Historical Lingsar Temple Country Side Easy Ride, start biking from Gunung Sari village through the back roads of Lombok's most fertile area, you will pass traditional farming irrigation systems dating back to the times of the Balinese colonialization of Lombok. Endless views of terraced rice fields.  On the way visit Home Industry of Kerupuk (Lomboks typical cracker), Karang Bayan traditional village and Pasar Endut (morning market).This tour taking max 3 hours paddling and end up at Lingsar Temple, a unique and sacred temple of two belief. Hindus and Moslem watu telu who worship together in one place for their own believe.It is built around 1714.
Tour Price from $50/person for couple, Read More Details
---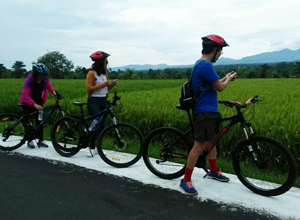 Gangga Waterfall
Gangga Waterfall  is discovering country side villages on the way up to the hill, you will green scenery of the rice plantation and then down the hill ride passing coffee, vanilla, and clove plantations. This Lombok Biking Tour finish at Gangga Waterfall, giving you chance for swimming and relaxing at the waterfall to feel the fresh air breeze from the nature surround Gangga waterfall. This Lombok Biking tour require medium skill level of Mountain bike, applicable for solo traveler, couple, family and small group. Price start from USD55/person for couple, Read More Details
---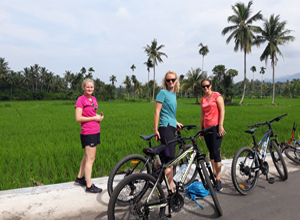 Tempos Country Side Cycling Tour
Biking around Tempos, country side village through green scenery of rice fields to feels the breeze of the fresh air along the ride. This Lombok Biking Tour bring you close in touch with peaceful and simple life of farmers in an amazing place, see daily activities of the villagers.
This cycling tour duration about 3 hours applicable solo traveler, couple or family group and most recommended for guests from cruise ship that arrive at Lembar harbor.
Tour price from USD40/person for couple, Read More Details
---
Bukit Korea Down Hill biking tour is the most of our Mountain bike challenging trails ride. Depart from Ranjok village ride up to the top of Bukit Korea (Korea Hill) and then long trails ride down hill to Gunung Sari village, cross over to Sesela village ride through main road to Meninting and then continue ride through sea side path ways until Batu Layar village which is the end of the tour. This Lombok Biking Tour require fit and good level of Mountain Bike riders.
Price start from USD80/person for couple, Read More Details
Who can do this Trip:
Group
Individual or couple
Family with kid 12 years old
How to Book::
Send your inquiry by Whatsapp, email or fill the booking form with details number of the person, name(s) list, pick up point (hotel name) include copy of your passport for permit and entrance ticket registration
Term of Payment:
Payment in advance 50% as the deposit of your reservation via PayPal online payment
The balance to be settle with cash on arrival
Paypal account : waynenata@gmail.com
Cancelation policy:
Full refund for cancelation noticed 7 days before arrival
Cancelation within 7 days of the trip is charged 50% of the package price
Lastminute cancelaltion (one day or on the day of the trip) is full payment charge